Mason Bros building transformed through smart and sustainable design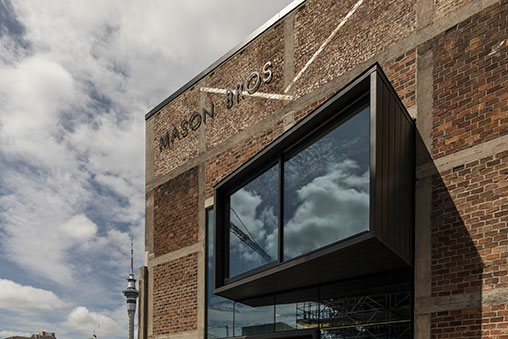 Transformed through smart and sustainable design, the historic Mason Bros building is a jewel in Precinct Properties' crown.
Originally a 1920s warehouse used by the Mason Brothers Engineering Company, the 2016 redevelopment of 139 Pakenham Street has delivered a stunning character building ready for its second lifetime.
A three-level workplace over 4700 square metres, the Mason Bros building today is a key part of Auckland's Wynyard Quarter Innovation Precinct, established to foster collaboration, innovation and economic development. And it has the distinction of being the only NABERSNZ 5.5 Star-rated property in Auckland, adding to an enviable 6-Green Star rating.
Mason Bros is therefore not only breaking the mould for innovative working spaces, but it is changing the game for sustainability, as New Zealand's first workplace to earn the title of one of the world's greenest buildings.
Background
About the Mason Bros. building, 139 Pakenham Street, Auckland
With the redevelopment of the Mason Bros building, which had in more recent times housed manufacturing business Southern Spars, long-term owner Precinct Properties aspired to a high-quality development that supported Wynyard Quarter's Sustainability Standards. It also sought and has achieved a building which provides long term operational efficiency, durability, flexibility and enhanced amenity for tenants which include consultancy and design practice Warren and Mahoney and engineering consultancy firm Mott MacDonald (both of which played key roles in its development), and innovation accelerator GridAKL. The building is valued at over $42-million and the renovation was completed in 2016.Paul Singleton, Precinct Properties National Operations Manager, says the developer invests in green buildings for multiple reasons.
It starts with environmental, social and governance responsibilities, our own sustainability goals and also demand for these types of developments.Paul Singleton, Precinct

Paul Singleton, Operations Manager, Precinct Properties, Auckland