A complete redevelopment for two late 1960s' buildings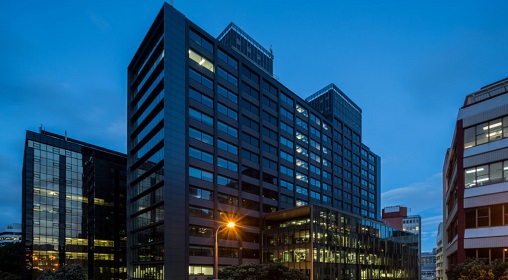 The new Wellington home for the Ministry of Social Development raises the bar for A-Grade Wellington office buildings.
Overview
Extensive redevelopment and structural upgrades have boosted the property into a league of its own in terms of resource efficiency, sustainable construction, and inclusive design.
The former two buildings (Unisys House & Aurora Chambers) now serve as one central hub of commercial office space and ground level retail space.
Key sustainable features:
Kiwi Property's major reconstruction project kicked off in 2016, joining the former Unisys House and Aurora Chambers to form a larger, cohesive office space comprising an expansive 24,276 m2.
Aurora Chambers was demolished and rebuilt to 100% "New Building Standard", while Unisys House was lifted from 70 to 90% of "New Building Standard".
These upgrades include:
First use of Fluid Viscous Dampers in NZ for seismic re-strengthening
Fit for purpose office layouts developed in conjunction with the Ministry of Social Development
High performance, Low-E double glazing
An energy efficient DALI lighting system
CARDEX site-wide security & entryway speed gates
CO2 based demand on-floor ventilation systems
Significant recycling of all metal during deconstruction/demolition
Re-use of heavy duty building facilities such as fire rated doors and hydrants