The Awly Building - efficient by design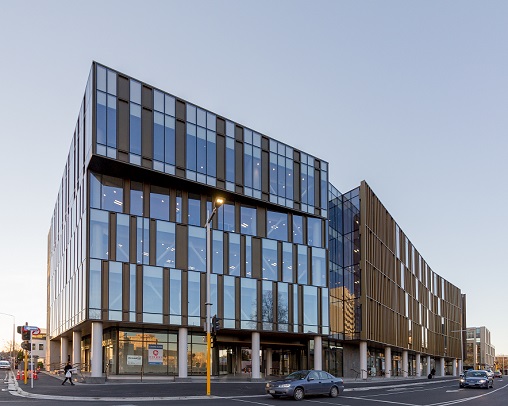 Designed for environmental responsibility and energy efficiency, the Awly Building demonstrates all that can be achieved with modern approaches and a conscientious focus on minimising resource usage.
After becoming the first building in the post earthquake city to achieve a 5-Star rating from the New Zealand Green Building Council, the Awly Building has now added a 4-Star NABERSNZ base-build rating to its credentials.
Read the case study
About the building
Located at 287-293 Durham Street North, Christchurch, the Awly Building is managed by Colliers International. The five-storey mixed-use property was designed by architects Warren + Mahoney and engineered by Beca. Completed in 2016 and just under 17,000m2, the Awly Building has as anchor tenants BDO, Meridian Energy and Regus. The ground floor houses two cafés, a Japanese restaurant and a convenience store.
Efficient by design
The Awly Building is equipped with base isolators which reduce swaying and shaking during an earthquake, helping limit damage to the building. This is coupled with diagonal seismic bracing, visible through the high-performance façade, for lateral stability. The central courtyard features green spaces, which works in concert with an internal design to maximise outlook and natural light.
It's these features which helped the Awly Building to its 5-Star NZGBC Green Star rating.
The NABERSNZ rating, assessed by Economech Analytics, focuses solely on energy efficiency. The following features contributing to the 4-Star rating:
A highly efficient, flexible air-conditioning system that uses energy-saving EC (brushless) fan coils
Low-energy LED lighting
Occupancy sensors to shut off lighting when rooms are empty
Sensors for light harvesting
Thermally broken façade frames
Solar shading and high-performance double glazing, optimising daylight and limiting solar gains.
As a result, the Awly Building is assessed for a GHG Emissions Intensity (kgCO2-e/m2) of 18.3, with an Energy Intensity (KWh/year/m2) of 92.5.
Owner Awly Investments is using this initial rating as a benchmark and intends on applying several recommended measures to further improve energy efficiency, lowering operational costs and driving up tenant comfort.
We recognise the advantages of improved staff health and wellness, reduced operational costs and minimal environmental impact by implementing a sustainability strategy.
Anna Yeo, Awly Investments Director